Press Releases | Featured Customers | Signature Patents

For information, ordering or quotation
please call 815-727-4362
globalsolutions@rapidline.com

Rapid Line Industries, Inc. Patented Products & Services Reflect Years of Research & Design. Top Quality & Performance is Guaranteed...

USE OUR SECURE ONLINE ORDERING OR CALL 815.727.4362
Rapid Line Power Clamping System - Outperforms the Competition

Unitized body repairs require a clamping system which is versatile and powerful enough to hold panels securely for pulling, welding, crimping, and straightening. You also need predictable results, not the sheet metal distortion and ripping that make your job more difficult.

Our patented Hydraclamp, Rapid Line's Power Clamping System grips metal 5 times longer than competitive systems without ripping.

To keep metal distortion to a minimum, full clamping pressure is applied before pulling (unlike self-tightening clamps). Our easy-on, easy-off design (no wrenches needed) saves time and labor while making clamping operations easier.

The unit also provides power holding of panels for welding, crimping, and straightening. The removable mini ram is great for straightening frame rails or getting into tight areas.

The Hydraclamp is constructed of heat-treated alloy steel for years of dependable service.


RLHA12 Hydraclamp without hydraulics
includes mini ram mounting hardware
$169.00 ea.

RL5004 Hydraclamp with GIQ 5 ton mini ram - ready for your pump, hose & coupler
$248.00 EA.

BEATS OLD TECHNOLOGY... HANDS DOWN
Test pull after test pull against all types of our competitors clamps - Hydraclamp beat them all! Either the competitor clamp would slide off the metal or rip it off.



RL5002 Hydraclamp with GIQ hydraulic kit - includes ram, GIQ coupler, 6' hose and hand pump
$399.00 EA.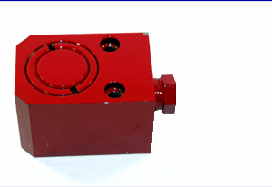 RR4058 Mini ram (with GIQ coupler)
$89.00 ea.

Includes adapter for 3/8" or 1/4" hose coupler

RR4006 US style 3/8" slip-on male/female coupler assem.
$89.00 ea.

RAPID LINE INDUSTRIES, INC. - COPYRIGHT 2012 - ALL RIGHTS RESERVED
ALL MATERIAL CONTAINED ON THIS WEBSITE IS COPYRIGHTED - ALL REGISTERED AND TRADEMARKED NAMES OR PHRASES ARE THE PROPERTY OF THEIR RESPECTIVE OWNER