For information, ordering or quotation
please call 815-727-4362
globalsolutions@rapidline.com

Rapid Line Industries, Inc. Patented Products & Services Reflect Years of Research & Design. Top Quality & Performance is Guaranteed...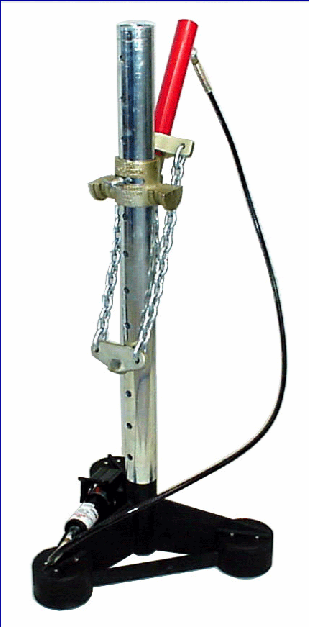 Rapid-Power Post System
Performance Features


Our patented Rapid-Power Post allows fast and easy set-up, moving effortlessly into position. As pulling begins, the wheels recess, allowing the unit to make effective pulls on a sturdy base.

Fully mobile-our unique cushion ride system allows the unit to be moved with one finger!

Advanced design allows the use of the hydraulics' full tonnage and pulling distance.

Quick set-up-50% faster than competitive
systems.

One-man operation to increase productivity and profits.

Versatile-360-degree pulling, as low as 10 inches off the floor up to 5 feet. Extensions are available for higher pulls.

Works with 6-, 8- and 10-inch rams, without special adapters.

Works in conjunction with all floor pulling systems.

Strength, dependability and safety are assured by the high quality carbon steel, fixture welding and machining employed in the Rapid-Power Post System.

Ease of operation and unique capabilities make Rapid-Power the most up-to-date post available today.


TIP: Flip the pulling head over to make up pulls

RAPID-POWER PULLING POST SYSTEM & ACCESSORIES
RLRP70 Rapid-Power Pull Post
without hydraulics
$1699

RL1201 Rapid-Power Post
with 10 Ton 10" Ram
ready for pump/hose $1999.00

RL1203 Rapid-Power Post
Extension (2.5')
$395.00

RL1204 Rapid-Power Post with ram, hose, coupler & air/hydraulic pump

The unit is available with optional hydraulics (either hand pump or air pump), as many shops already have their own hydraulic systems. With the Rapid-Power Post's versatile hydraulic ram mount, many different makes and ram length hydraulics can be used without special adapters.

Out unique swivel-pin adjustment allows bi-directional pulling when using an additional pulling head (option RL-RP7A). For example you can simultaneously pull both a frame rail and an upper cowl from one Rapid-Power Post. Many other bi-directional pulls can also be achieved.






RL1204 Rapid-Power Post
with RR4050 Hydraulic Kit
ready to use $2395.00

Rapid-Power Pulling System Video

RAPID LINE INDUSTRIES, INC. - COPYRIGHT 2012 - ALL RIGHTS RESERVED
ALL MATERIAL CONTAINED ON THIS WEBSITE IS COPYRIGHTED - ALL REGISTERED AND TRADEMARKED NAMES OR PHRASES ARE THE PROPERTY OF THEIR RESPECTIVE OWNER